Car Trims & Packages – How To Spec Your Mazda!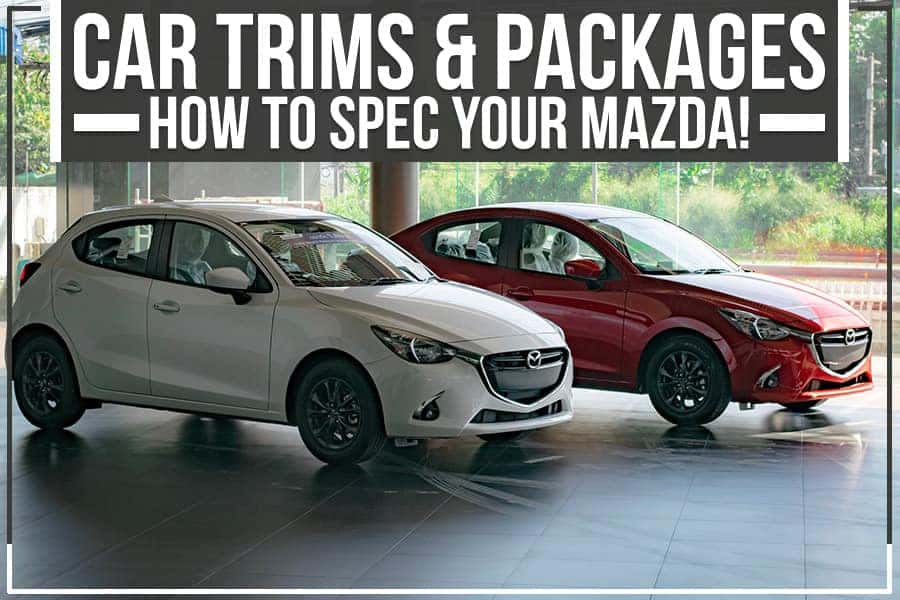 When it comes to ordering your dream car, there are many things to consider.
What color do you want?
What size?
What type of engine?
But one of the most important decisions is what kind of trim and package specs you choose. This can make a remarkable difference in your overall driving experience and the price you pay. This blog post breaks down what trims and packages are and elaborates on how you can choose the right ones for you.
What Are Trim Levels?
A trim level is simply the differentiating factor between two versions of the same car model. The term "trim" refers to the level of finish or trimming on the vehicle's interior and exterior. In other words, it's what makes one Mazda model variant look different from another.
Some automakers will offer multiple trim levels for each model in order to appeal to a wider range of customers. For example, a Mazda might be offered in three different trim levels:
entry-level Sport,
mid-level Touring,
top-of-the-line Grand Touring.
While the underlying vehicle platform remains unchanged between the various trims, each one will offer different features and equipment. The basic level is usually the most affordable and has the fewest features. As you move up through the trim levels, you'll find more and more luxury, and convenience features added.
Some of the things that might differ between trim levels include:
Wheels and tires
Body kit or aero package
Headlights and taillights
Interior materials
Upholstery and Interior
What Are Packages?
A car trim package is a group of features and/or equipment bundled together. Manufacturers offer packages at different trim levels or as stand-alone options that can be added to any trim.
Car companies often bundle popular features together in packages to make it easier (and more affordable) for shoppers to get the features they want. For example, a navigation system might only be available as part of a premium package that also includes upgraded audio, heated seats, and a sunroof.
Some common Mazda model packages include:
Appearance Package
Technology Package
Safety Package
What to Consider When Buying?
When shopping for your new car, determine what features attract you. Do you want the base model with the bare essentials, or do you want a package with all your favorite features bundled into one?
It might be tempting to get the base model to save money if you're on a budget. But sometimes, it's worth it to splurge on a few extras. For example, if you live in a cold climate, heated seats might be worth the extra cost. Or, if you do a lot of night driving, LED headlights could be a lifesaver.
On the other hand, there's no point in paying for features you'll never use. If you never take your car off-road, then the all-wheel drive is probably not worth the added expense.
Research all the options, give your preferences a thought, or better yet, discuss them with a qualified professional.
Unaware car buyers can find it challenging to shortlist Mazda model trims that suit them. Mazda of Fort Walton Beach, serving Cinco Bayou, FL, is your ticket to finding a compatible car model. Our professional automobile sales team displays our diverse collection by talking you through the fine details of our impressive catalog of new and pre-owned vehicles.
Browse our inventory today and shortlist vehicles that fit your needs perfectly.