2018 Mazda CX-5 vs 2018 Nissan Rogue in Niceville, FL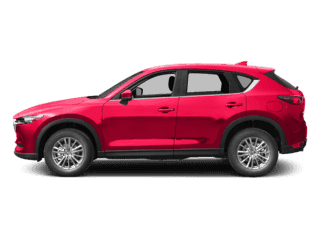 With so many options available, finding a compact crossover that's right for you and your family can be difficult. To help with your decision, your reliable dealership, Mazda of Fort Walton Beach, is comparing the thrilling 2018 Mazda CX-5 to the 2018 Nissan Rogue. Let the battle begin!
We'll begin by examining the powertrains that you'll have at your disposal in the 2018 Mazda CX-5 and the Nissan Rogue. At first, the two seem evenly matched, as they both sport a 2.5L 4-cylinder engine, teamed with a 6-speed automatic transmission. However, when put to the test, the Mazda CX-5 outperforms its competitor, achieving a commanding 187-hp and 186 lb.-ft. of torque to the Rogue's 170-hp and 176 lb.-ft. of torque. This additional power gives the crossover from Mazda a towing capacity1 of 2,000 lb., compared to the Nissan's 1,102-lb. towing capacity2. If you're concerned about fuel efficiency, rest assured. The two vehicles achieve nearly identical fuel economies, so even with the additional muscle of the Mazda CX-5, you won't have to worry about spending more at the pump! It's no question that when it comes to performance, the crossover from Mazda comes out on top!
When you climb inside the 2018 Mazda CX-5, you're apt to find a more accommodating and more spacious cabin than you would in the Nissan Rogue. Though both compact crossovers can fit up to five passengers and include standard cloth-trimmed seats, the Mazda CX-5 goes the extra mile, even in the standard trim, to really enhance your comfort. A true touch of luxury, the Mazda includes a standard leather-wrapped steering wheel and shift knob. In the basic trim of the 2018 Rogue, you can't even upgrade to this feature! In addition, your passengers in back will have more space in the Mazda CX-5 than in the Rogue, with 39.0 in. and 39.6 in. of head and legroom, compared to the 38.5 in. and 37.9 in. they would have in the crossover from Nissan. For the ultimate in comfort, the only choice is the 2018 Mazda CX-5!
In addition to creature comforts, you'll also have a more comprehensive entertainment system inside the Mazda CX-5 than the Nissan Rogue. As with other aspects, the two crossovers do offer similar components, including a standard 7.0-inch touchscreen display, four standard speakers, and Bluetooth®3 compatibility for hands-free calls and audio streaming. However, with Mazda's crossover, you'll have access to features unavailable in the Nissan's, like Pandora® internet radio and HD Radio™, to enjoy the widest variety of musical genres for hours of endless entertainment. These will most definitely come in handy on those long road trips when regular radio isn't an option. You'll soon find that the Mazda CX-5 is the perfect companion for cross country drives, as well as for your weekly shopping excursions!
After taking a look at the 2018 Mazda CX-5 vs 2018 Nissan Rogue in Niceville, FL, it's pretty clear that the Mazda is the victor. You can check out this exciting compact crossover when you visit Mazda of Fort Walton Beach, located on 785 Beal Parkway in Fort Walton Beach, FL. We hope you'll come see us soon!